Miley Cyrus (long brunette hair)
Miely Cyrus as Hannah Montana
Miley Cyrus Miley Cypress as Hanah Montana (above) Long straight blond hair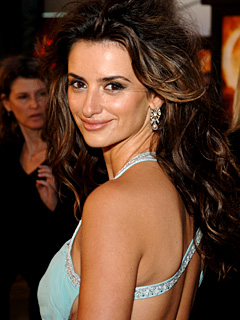 Penelope Cruz-- thick brunette wavy hair. Hair this long looks better on brunettes. Because most blond hair is colored, long blond hair tends to look damaged and frizzy, instead of healthy like she has here.
Miley Cyprus below. Thick brown hair with highlights. Though she is a teenager, this cut actually looks great on many ages.
A nice short option for thick hair, also see Selma Blair.